2013: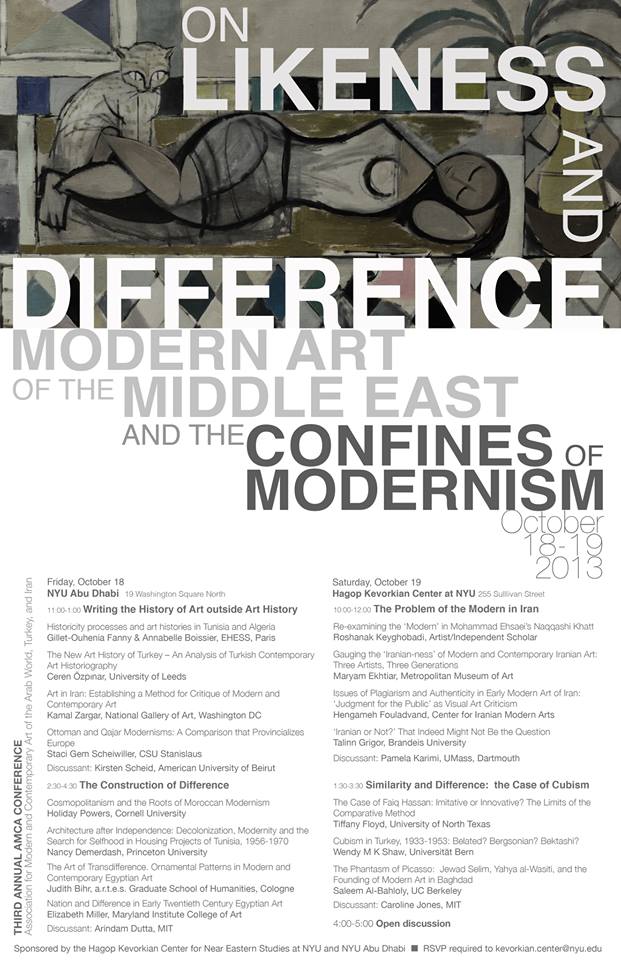 "The Problem of Modern in Iran" Panelists- Roshanak Kayghobadi (Independent Scholar), Maryam Ekhtiar (The Metropolitan Museum of Art) Hengameh Fouladvand (Center for Iranian Modern Arts), Talinn Grigor (Brandese U) Discussant: Pamela Karimi, UMass Dartmouth
Location: Hagop Kevorkian Center, NYU 255 Sullivan Street
10 AM-12 PM. Free for public.
2011: The art of four Iranian-American Artists, affiliated with CIMA, in "Cultivating a New Identity", will be published in Amidst Shadow and Light: Contemporary Iranian Art and Artists, Edited by Hamid Keshmirshekan, Liaoning Creative Press, 2011-Link.

"Conceptual Sensibilities: The Photo Media Art of Nasser Palangi" (condensed article), will be published in Art Tomorrow , Spring 2011 - Link.
November 2010: CIMA will be represented at MESA Middle East Studies Association 2010 Annual Meeting , San Diego, CA. The Panel is titled Iranian Urban History and will take place November 19, 2010 at 4:30. For further information visit MESA's website.
"Mysticism in the Modern World" at MESA 09 CIMA's Executive Director will be Chair and Presenter at Middle East Studies Association 2009 Annual Meeting, Boston, Sun Nov 22, at 4.30pm. For more information please click here.
Priska C. Juschka Fine Art Presents: Nicky Nodjoumi
Priska C. Juschka Fine Art is pleased to present The Formulaic Nature of Appearances, new paintings by Iranian born artist Nicky Nodjoumi. This exhibition is accompanied by a catalog with an essay written by Shirin Neshat.
February 19 - March 28, 2009
Opening reception on Thursday, February 19, 6:00 - 9:00 PM
Gallery hours: Tuesday through Saturday 11:00 to 6:00 PM or by appointment.
Mohammad Ehsai at ArteEast: Mohammad Ehsai, a leader of modern calligraphy in Iran, who has produced many paintings, murals, and graphic designs that are eminent examples of "Naghashi Khat" - has an online exhibition at ArteEast. ArteEast continues its series featuring historical modernisms in the Middle East. Guest curated by Hengameh Fouladvand (from CIMA) with assistance from Sharon Parker.

Iranian Visual Art Trends and Development, Exhibitions, Art of Diaspora Encyclopedia Iran Today, co-edited by Professor Dorraj and Kamrava Greenwood Press, 2008. Click here for more information.

CIMA will be present at the MESA Conference 2008, Washington, DC at the panel titled Music, Experience and Identity


Architecture and the Urban Landscape
Mesa 2007

MESA 2006: Iranian Visual Arts from Medieval to Modern
Presentation of Seyed Alavi's Works
Boston, Massachussetts
Click here for more information

Contemporary Iranian Art: Modernity and the Iranian Artist at Kellog College, University of Oxford July 11 and 12, 2005
Hengameh Fouladvand, Executive Director, will be featured as a guest speaker at this conference. She will be presenting her paper, Cultivating a New Identity: A Self-referential experience for Iranian American Artists.
For a link to the program, other speakers, and information on the event, please go to:
http://www.barakat.org/iran_conf/index.html
Cross Cultural Expressions- April 20-May 25 2002
Featuring Amir Fallah, Zahra Farmanfarmaian, Roshan Houshmand, and Reza Kassai.
Reception Saturday, April 20, 2-5 PM
at M.Y. Art Prospects
135 West 29th Street (between 6 and 7th Av)
View Cross-Cultural Expressions-
Click to read Press Release
Click to view Invitation Card

Expressions, Lecture Series

Kandahar by Mohsen Makhmalbaf
(DEC 28 2001 - JAN 3 2002 FRI - THURS 2, 4, 7:10, 9:10)
Bahm
an Ghobadi - Director
-Saturday December 15 2001 5:30pm at NYU's Cantor Film Center in New York
Panel Discussion: ISLAM ON FILM
Sat-Sun December 1-2 2001


Alchemy
is a four-person exhibition featuring
Seyed Alavi, Aylene Fallah, Taraneh Hemami
and
Haleh Niazmand
. This exhibit presents works of four Iranian-American artists whose exploration into their immediate environment is inspired by their multicultural sensibilities. The result is a powerful cultural and aesthetic alchemy.
Alchemy Press Release
Click to View the Announcement Card
e-mail CIMA

Events in the past

MARCH 4 - MARCH 18, 2000 "ART SALE"
Mirror works, collages, oils on paper, pastels, and drawings.
Works previosly exhibited in Theran, Basle, Paris, Venice and NYC...from 1978-1990.
MONIR SH. FARMANFARMAIAN
OPENING RECEPTION: SATURDAY, MARCH 4th 6-8pm
------------------------------------------------------------------------
MARCH 24 - APRIL 28, 2000
"DRAWING THE LINES: FOUR IRANIAN ARTISTS IN NEW YORK"
an exhibition of works by: